The Masters Interpros were held in Cork last weekend with great success.
"The Drive for Five"
A big thank you to Eamonn O'Keeffe for running a very successful Masters Interpros in Munster again this year.
Firstly the ladies: – Well done to Claire Jones and Dympna for resurrecting a ladies team and the competition. They could even afford the luxury of lending Mandy Collins to Ulster to fill their number 5 position. Ironically Ulster went on to win the competition!, with leinster also competing.The only problem was Bronagh Conway injuring her achilles tendon and we wish her a speedy recovery especially as players of her calibre are hard to come by.
Claire and Mandy also organised the music and entertainment and a great night was had by all.
In the mens, unfortunately, Ulster and Connaght could not field teams in the over 45 and 65 sections so Leinster and Munster played round robin type competitions to ensure players got three games, especially after travelling.
Leinster proved too strong in the over 45 section but the over 65 was much more competitive, going down to the last game of 9, which Leinster won.
In the over 55 section every province took part in a bid to stop Munster from achieving their four-in-a-row this time round. After some very competitive and entertaining games Munster came through with flying colours.Team photo is included and on the extended panel were: – Derry McCarthy, Jim O'Callaghan, Timmy McCarthy and Lee Healy and it is no wonder that, with this panel, Team Captain Michael Mulhall has already begun the "Drive For Five" for next year and hopes to succeed where his fellow countyman, Brian Coady, failed. A tall order but, undoubtly, Michael will leave no stone unturned.
Thank you also to the other captains,  Geoff Wales and Joe Whelan, who organised the over 45s and 65s respectively. Without their input the tournament would not have taken place.
Over 45 Men's was won by Leinster (no pic unfortunately!)
Mens Over 55 Winners – Munster
Ladies Winners – Ulster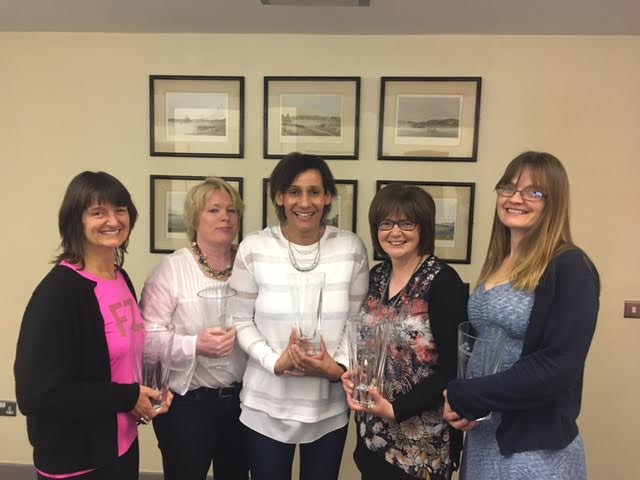 Men's O65 Runners up – Munster