Munster Men's O35 and O45 2014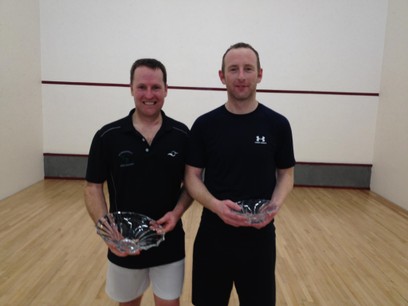 The members of Ennis CBS Squash club were treated to fantastic squash last weekend, when the Over 35/40s tour rolled into town for the Munster Open Masters event. It has been many years since a tour event was hosted in Ennis, and the club pulled out all the stops to ensure a smooth hosting of this event. Tournament director Clive Morgan had amassed top quality fields in both events, which included 11 players that have represented their Country on the International stage.
Starting on Friday night most matches went with seeding, with the exception of Donal Carroll beating the number 4 seed Neal Pollock 3-2 in the over 35's event. Ronan Peyton, Keith Moran, & John Hurley were the other winners in the 35's category on the Friday night,
and top seeds Dara O' Flynn, Clive Morgan, Ciaran Mc Coy, and David Ayerst all progressed in the 40's event with good wins.
Saturday morning saw 4 close matches in the Semi finals. Dara  O' Flynn accounted for Clive Morgan, and David Ayerst beat Ciaran Mc Coy to set up a classic 40's final. Keith Moran powered his way past John Hurley, and Ronan Peyton got the better of a tiring Donal Carroll to make the 35's final an all Sutton affair. In the play off places, there were wins for Andy Brennan, and Cormac Ryan in the 40's and wins for Neal Pollock and Fergie O' Loughlin in the 35's section.
Following a quick break for lunch, the final series of games got under way at close to 1.00pm, with everyone keen to get on the road home as soon as possible. In the minor placings, there were wins for Stephen Fasenfeld, Cormac Ryan, & Ciaran Mc Coy in the 40's, and wins for Neal Pollock, John Hurley, and Declan Devitt in the 35's.
The 40's final was next on court, and David Ayerst and Dara O' Flynn thrilled the large crowd with brilliant squash. Dara, looking to defend the title he won in Limerick last year, tried every shot in the book to take the title home again, but it was to be the Ulster mans day, and David Ayerst took the title on a 3-1 score line.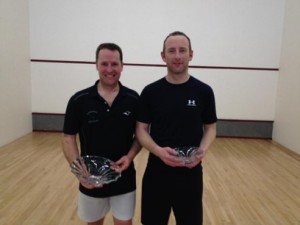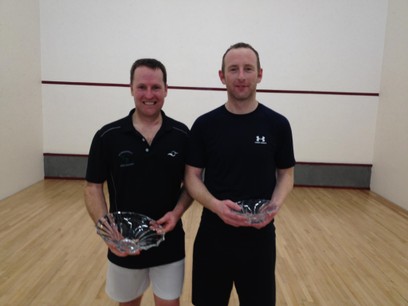 The 35's final was another great match, but it was Keith Moran that took the 35's title despite the best efforts of Ronan Peyton, his north Dublin club mate.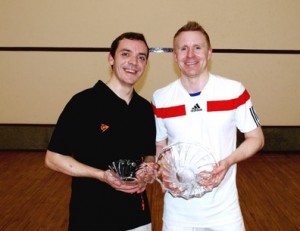 ---
| Competition | Winner | Runner-Up |
| --- | --- | --- |
| Men's O35 | Keith Moran | Ronan Peyton |
| Men's O40 | David Ayerst | Darragh O'Flynn |