Senior Open 2013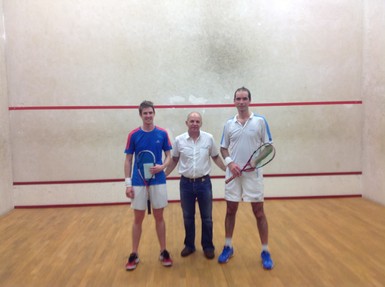 Derek Ryan (Fitzwilliam) beat Brian Byrne (Claremorris) 3-1 (13/11;5/11;11/8;11/9)
In the Men's A Final, Derek Ryan showed once again that he is still the one to beat when he put in an impressive performance to beat Brian Byrne 3-1 in the final at Silversprings. Despite Byrne's fabulous retrieving of seemingly ungettable balls, it was the Dubliner who dictated the rallies for the greater part of the match. In a step-up from their semi-final performances neither player made many errors and in the end it came down to the range and class of Ryans array of squash shots. The trade-mark drops were always 'clung to the wall' and almost all 'lengths' really were played to length. Added to his lob and unpredictable cross-court shots on this occasion at least he proved too much of a handful for his opponent.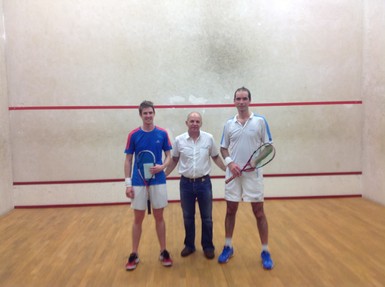 ---
Ladies A Eleanor Lapthorne (Highfield) beat Ciara Moloney (Carlow) 3-0 (11/9;11/3;11/7)
In the Ladies A Final Eleanor Lapthorne made a welcome return to this competition and ran out a 3-0  winner against an under-par Ciara Moloney who never got her A game going. Lapthorne was the quicker player to settle into the match and overall managed to do better with lengths, drops and the occasional boast. Although Moloney served well, especially to the back-hand, she rarely pushed home the advantage of a loose return. Overall the Cork player hit the firmed strikes and appeared to adapt better to the warm court conditions. Characteristically Lapthorne was quite happy to go for the winner as soon as it appeared 'on'. Moloney can add this runner-up spot to her similar finish at the Curragh Open recently so will not be too disappointed with her weekend.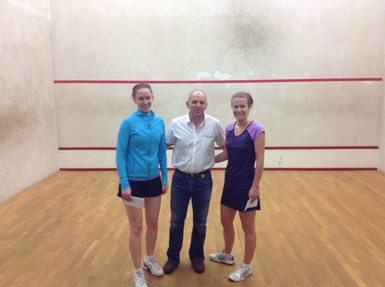 ---
Full results
| Competition | Winner | Runner-up | Third |
| --- | --- | --- | --- |
| Ladies A | Eleanor Lapthorne (Highfield) | Ciara Moloney (Carlow L.T.C.) | Jody Hannon |
| Men's A | Derek Ryan (Fitzwilliam) | Brian Byrne (Claremorris) | Michael Craig (Belfast Boat Club) |
| Men's A Plate | Neal Pollock (Ballyearl) | Anthony Lyons (Dunhill) | - |
| Men's B | Martin McDonnell (Highfield) and Mark Gilliland were finished in B1 and B2 positions | | |
| Men's C | Geoff Wales (Silversprings) | Ian McLean (Sunday's Well) | - |
| Men's C Plate | Paul O'Mahony (Highfield) | Maciej Truchan (Gleneagle) | - |
| Men's D | James Doherty | Noel Walsh (Freshford) | - |
| Men's D Plate | Brendan Lawton (U.C.C.) | Mark Power (Highfield) | - |